This is the continuation of the Eco-friendly swap. Here is the swap I got from my cyberfriend La Griotte (her blog in French is La Griotte croque son blog):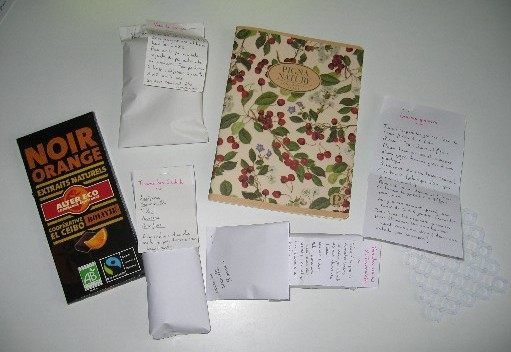 I was spoiled with a lot of surprises in the packet:
* a herbal tea for sleeping
* a fair trade organic chocolate bar with orange because I love chocolate
* some seeds that can be sprouted with some gauze and the directions for use (I wanted to test sprouting)
* Soap nuts (I wanted to try them)
* Dried tomatoes (I wanted to try them too)
* and a nice recycled paper notebook with eco-friendly recipes for cosmetics, cooking, health, cleaning and crafts. La Griotte collected these useful recipes from several bloggers.
La Griotte was well-advised because I am fond of good food and inquiring.
Thank you La Griotte!