The metro entrances are typical part of Paris street furniture (like Wallace fountains).
In 1899, the Compagnie du Métropolitain de Paris asks Hector Guimard to design different entrances to the metro : small stations, enclosed entrances (called "édicules") and open entrances (called "entourages"). Hector Guimard is an architect who belongs to the Art Nouveau movement. His cast iron gates indicate the entrances to the new Paris metro. They are criticized for their innovating shapes.
| | |
| --- | --- |
| Entourage Guimard (Palais Royal – Musée du Louvre station) | Edicule Guimard (Abbesse station) |
After Guimard, metro entrances are less avant-garde. Open entrances are made of stone or wrought iron. Entrances are signposted by masts.
Later, they are replaced by signs simply saying "metro" or "M" (those signs are not worth taking a picture of) to signpost the stairs (only stairs no lift, Paris metro is not wheelchair-accessible).
In 2000 at last, a new metro entrance is bold. The "kiosque des noctambules" (kiosk of the night-birds) is designed by the French artist Jean-Michel Othoniel for the Palais Royal station.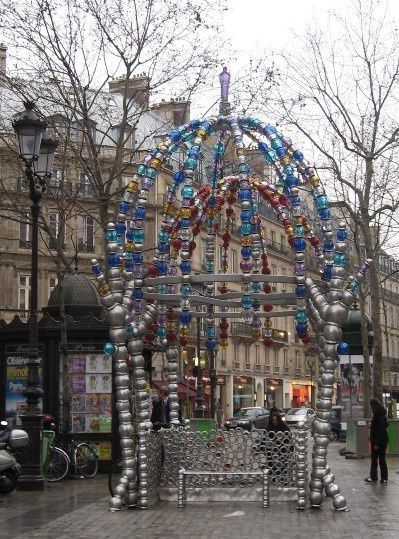 kiosque des Noctambules (Palais Royal – Musée du Louvre station)
I like this kiosk surmounted by two domes made of glass bubbles because it's kitsch and fairy. The criticism I would make of this work of art is that it doesn't help you to find the metro entrance because there is no sign. I am afraid it has forgotten its main function.
Links:
Différent metro entrances (in French)
Guimard metro entrances (in French)
Some works of art by Jean-Michel Othoniel
Other articles about Paris street furniture on this blog: