ACTIONS
ACTIONS
ACTIONS
ACTIONS


This is what you can read in capital letters on the wall at the entrance of the exhibition "Actions: What You Can Do With the City" presented by the Canadian Centre for Architecture in Montreal.
It sets the tone. There is no utopian project designed by an imaginative architect. All initiatives exist. They are projects initiated by ordinary people who want to improve the city where they live. This is a good example for defeatists who say "we can't do anything". It reminds us that we can't just wait and hope that politicians change our environment, but it mainly teaches us that means exist to make our city a more pleasant place to live.
The link between a city and its inhabitants is an interesting question. We generally endure our environment instead of influencing it. Cities organize public consultations on new construction projects but few people are informed about such consultations; very few people have time to participate, and those who take part in the debate often have a feeling that they are not considered.
Therefore, cities develop without their inhabitants taking part in it. And it is only afterwards that we see the result: ghettos that concentrate poverty, central business districts that are deserted late in the afternoon and express ways that raise barriers between municipal districts.
How can we give more humanity to cities? First, by remembering that public space belongs to everyone; thus, it belongs to us. Therefore the exhibition shows projects aiming to make the city their own. I am amazed by these simple but effective ideas.
For more information:
Presentation of the exhibition

I have noted the initiatives that I like the most. If you plan to see this exhibition (which I strongly recommend), I advise you not to read what follows below, just to spring the surprise. If you don't have the chance to come to Montreal before April 19th 2009, here are a few projects that find solutions to urban problems:

* I already knew Freecycle. People can publish an ad on Freecycle website to announce items they don't want any more, because what they would throw away could be used by others. There is a Freecycle group in Paris and another one in Montreal among others.

* In New York, Green guerillas make "seed bombs". Those little balls, mixtures of clay, compost and seeds can turn any empty lot into a garden.

* In Toronto, Urban Repair Squad makes stencils perforated with a bike pattern. You can use them to paint bicycle lanes where they are needed.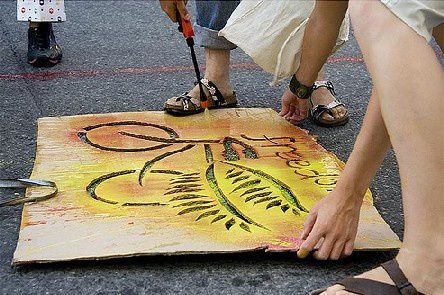 photo Sean Connors (c) creative commons

* Rebar covers parking spaces with grass in San Francisco. This project called PARK(ing) makes us realize the enormous place taken by car in cities. Can you imagine if all parking spaces were converted into gardens?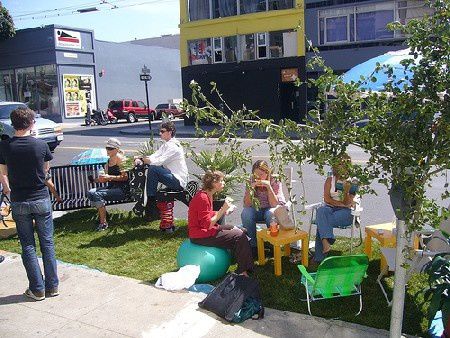 photo Stewf (c) creative commons

* At McGill University in Montreal, the "Edible Campus" project consists in planting a vegetable garden in containers. It adds green to a concreted corner of the campus and the crop is given to a charity that delivers meals to seniors.

* Santiago Cirugeda, an architect from Seville, wrote a book called Recetas Urbanas (urban prescriptions) that provides semi-legal strategies for housing and urban renovation. One idea is to temporarily occupy vacant lots waiting for a project or a building permit. Recycled street furniture is used to construct benches and playground equipment on the vacant lots.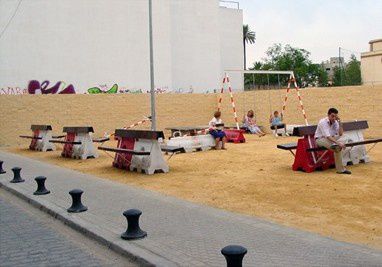 There are other actions on the exhibition website. Everybody can submit an action so that it can be shown too.