Victoria's Royal BC Museum welcomes an exhibition called "Treasures: The World's Cultures from the British Museum". More than 300 items lent by London's British Museum are on display.
In British Columbia, there is no comparable museum to the British Museum or the Louvre with a rich collection of archæological artefacts from everywhere. The exhibition gives an overview of the British Museum thanks to works of art of all periods organized by civilization. We go from ancient Egypt to Mesopotamia, from ancient Greece to medieval Europe and from Asia to the Americas.
I visited the British Museum some time ago. I don't know when I can return there. Thus it is fortunate that the British Museum comes to me.
The London's museum has not lent its most famous works of art nevertheless you can see some very beautiful pieces: a 3 000-year-old Egyptian mummy, a small gold mask from Israel, the Lewis chessmen of the Middle Ages (apparently their replicas were featured in the first Harry Potter film) and a charcoal by Henri Matisse. There are also some objects made by natives of British Colombia. They were brought to England by navigator George Vancouver at the moment of his exploration of the West Coast of Canada in 1792.
The displayed objects are various but they have the craftmen's great skills in common. I could spend hours admiring details of the objects. So I lingered in front of this Persian calligraphy by Dara Shikoh (the son of the Mughal Emperor Shah Jahan who built the Taj Mahal). It is adorned with birds and flowers painted with great finesse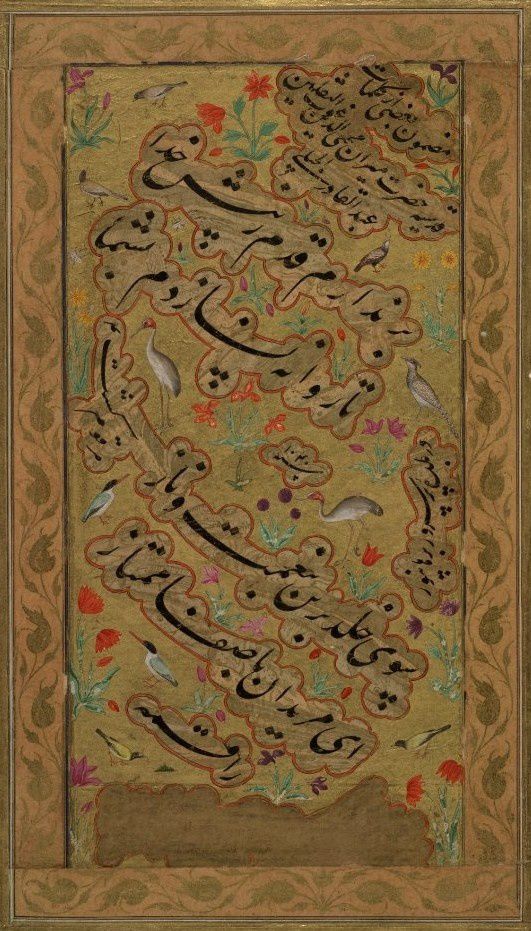 a page from an album of calligraphy copied by Dara Shikoh (c) The Trustees of the British Museum

At different points of the exhibition, animators explain what are some objects that you can handle and watch closely. For example, an animator talks about the invention of writing while showing inscriptions on a clay tablet from Mesopotamia (where Syria and Irak are today).


The exhibition runs through Sept. 30, 2009 in Victoria, BC.

For more information, see the Museum website