Here is a picture from Dolce & Gabbana Fall 2009 Ready-to-Wear fashion show. Top model Chanel Iman is wearing a fuchsia glove as a hat.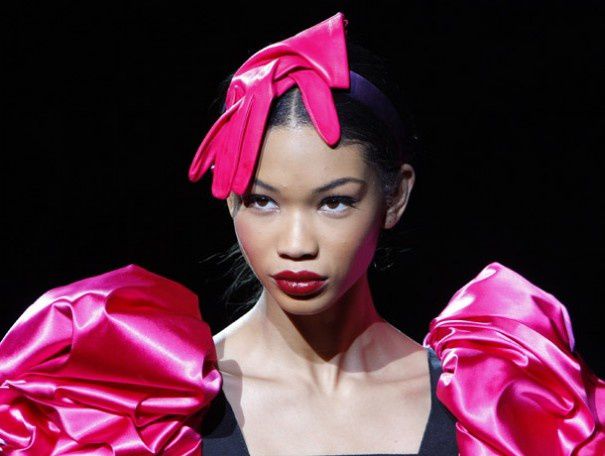 photo Tom Wabe seen on L'Express styles
She is self-confident, as if it were normal to walk with a glove on her head. I think this is an excellent idea. It is possible to recreate it in order to give a touch of extravagance to an evening dress. Her glove seems to be attached to a headband.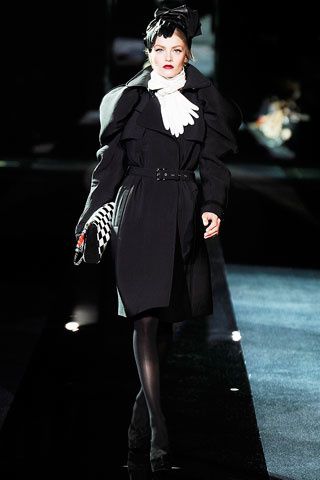 photo Marcio Madeira seen on style.com

However, after several fittings in front of my mirror, I would say that there is a chance to look ridiculous. See, this other model looks like she has had a giant seagull poop on her head. It's a pity because I like the rest of her outfit : a black trenchcoat and a white scarf whose ends are glove-shaped.
Throughout the fashion show, the designers play with gloves. They have created glove scarves and glove belts. These accessorizing ideas are easier to apply – tie a scarf and matching long gloves.
Discover other articles on my favourite fashion shows:

* Kate Bosworth at the Burberry Fall Winter 2012 Fashion Show
* Valentino Ready-to-Wear Spring Summer 2012 outfit
* Christian Dior Haute Couture Spring Summer 2011
and many more articles aboout fashion in the Fashion category