On my arrival in Vancouver, BC, I visited several health food stores. One of them impressed me with its dimensions: the Whole Foods Market located at Cambie Street and 8th Avenue whose surface area is around 51 000 square feet. I had never seen such a big natural food store before. In comparison, in Paris my organic food store measures approximately 2000 sq ft.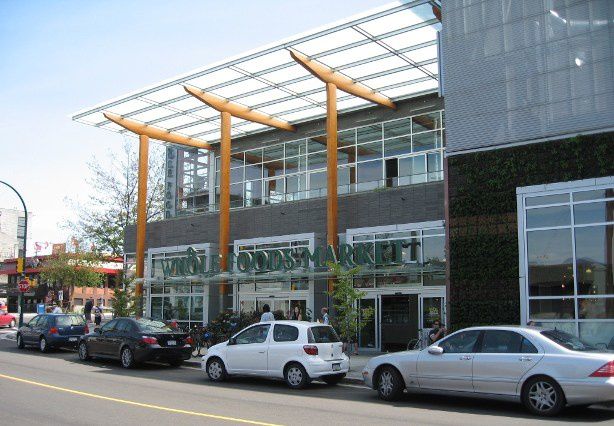 storefront and green wall on the right
Whole Foods Market looks like a classic supermarket with many departments: fruits and vegetables, cheese, meat, seafood, pastries, grocery items, flowers, cosmetics…
You can have a drink on the spot. The prepared foods department includes sandwiches, a salad bar, a pizza station and a burritos bar to eat in or take away, in a compostable packaging.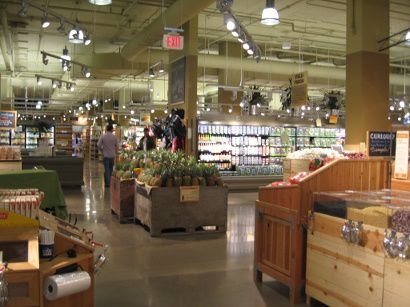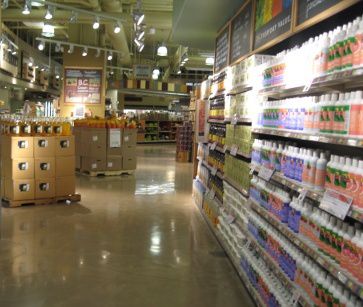 Whole Foods Market is quoted on the stock-exchange and opens new stores every year. Its founder, John Mackey, started a small natural foods store in 1978. Today he is CEO of Whole Foods Market, Inc. , a libertarian and an union buster. He defends a concept called 'conscious capitalism'. It means that, according to him, you can both make money and serve society. In 2009 he made news by opposing President Obama's health care plan. His position was not accepted by some Whole Foods Market's customers who predominantly support health-care reform and a boycott was called.

You can read Whole Foods Market's good intentions on their website but it's difficult to judge their sincerity. So in my review I have contented myself to list the advantages and disadvantages of the store as a customer.


Advantages:
* Large selection of organic products
* Large fine food department
* cheese that tastes like real cheese
* near transit stations
* clean and spacious store
* There are often tasting events
* If you bring your own shopping bags, you receive a small discount
* You can find everything you need for an improvised picnic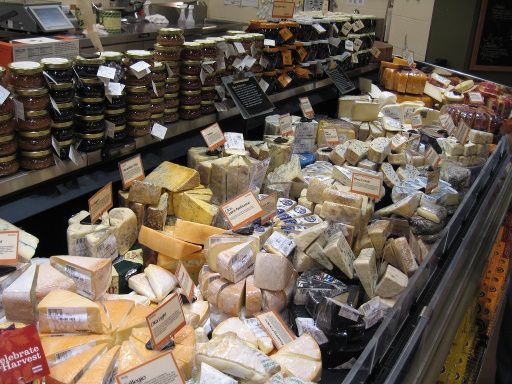 Disadvantages:
* The mix of organic and conventional products
* Prices are expensive, especially for organic meat but competitors are expensive too
* Some imported fruits and vegetables have travelled long distances
* There are many industrial products made by large companies and few traditional products from small producers
* There are often price errors
* The store belongs to a multinational company that has more than 280 stores in the United States, in Canada and in the United Kingdom. It competes with local health food shops. In Vancouver Whole Foods Market acquired Capers' stores in 2007. This means less competition and less choice for consumers.

Although it is far from my home, this store is convenient to shop organic. But I do the grocery shopping at other places too.


For more information:
the official website of Whole Foods Market
an interview of John Mackey, CEO of Whole Foods Market
a critical article on Whole Foods Market